The Original Bike Evolved
Loaded with tons of features never before seen on a bike, the original Flash v1 is much more than an electric bike. It's the bike evolved.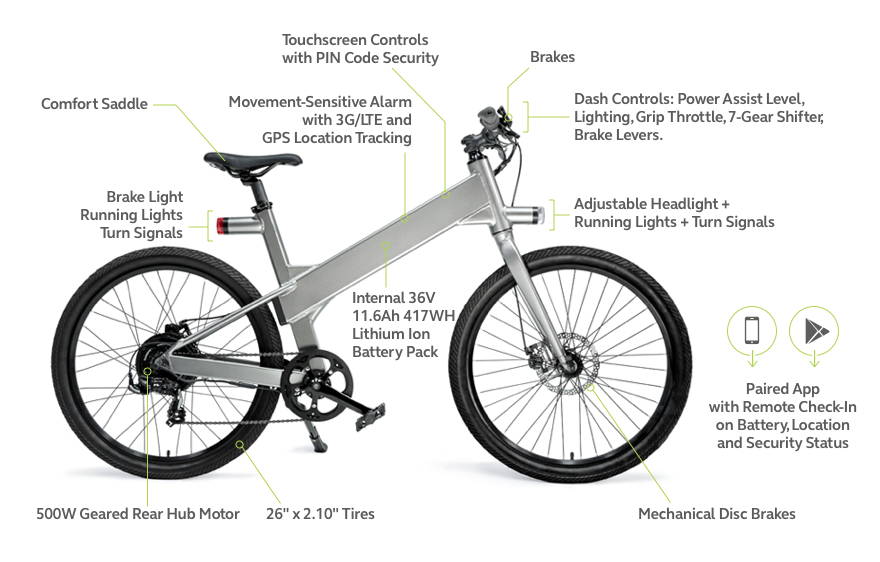 ---
Pedal Assist and Grip Throttle
All Flash models include a 500 watt motor, 36V internal Lithium Ion Battery, Pedal Assist and grip throttle. With a top speed of up to 28 mph and a range of up to 30-50 miles between charges, you can explore to your heart's content.
Built for sharing the road.
---
Safety with integrated 360 LED light
Adjustable headlight with a beam distance of up to 430 feet. Automatic brake light. Turn signals. 360° Running Lights. Plus, an 85-decibel electric horn. We've kept safety top of mind, so you don't have to.
---
PIN Code Security + GPS Tracking
With 3G/LTE connectivity paired with the Flash smartphone app (iOS and Android), the Flash is always under your watchful eye. No matter where you happen to be.
---
Flash Smartphone App
Pair your v1 with the Flash app for iOS and Android, and enable a world of advanced intelligence features, including remote check-in on battery, location and security status, personalized rider settings, and much more.